So many things have been a struggle for me, but finding the best way to clean shoes at home is one I've actually overcome. I have always been interested in the sneaker community, AKA sneakerheads, ever since my extremely talented, good looking, rich, slightly older brother introduced me to the Jordan VI's. They were the Oreo ones which combined my two passions at the time, eating Oreos, and pretending I could dunk. It was a glorious time. But I digress.
Because my brother, who can actually walk on water, bought them for me, I wore those jawns everywhere. Unfortunately, that meant I thought it would be a good idea to wear them while cutting the grass. After my Dad yelled at me for doing such a shitty job cutting the grass, I looked down only to notice that they were now destroyed. Now what? Well, that's the first time I was determined to figure out the best way to clean shoes at home. Today, I share that knowledge with you so that you can enjoy your sneakers longer, or even look to make some extra cash selling your used classics. I've tested a number of home remedies to determine the best way to clean shoes at home, and I have ranked them in this post.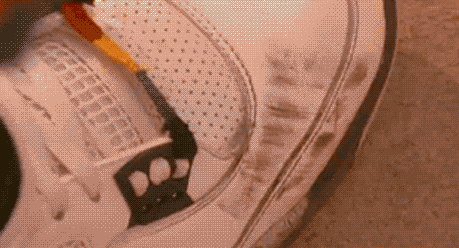 The Best Way to Clean Shoe at Home
The best discovery I came across to clean my shoes at home was the Mr. Clean Magic Erasers. These things were sent from heaven. In my not-so-humble opinion, the three best inventions of all time are the wheel, the light bulb, and the Magic Eraser. In that order. Using this on your tarnished sneakers will make those babies go from 5 years old to looking fresh out of the box in just a few wipes.
Get magic eraser
Completely wet with warm water
Squeeze all water out
Wipe down sneaker

PRO TIP: be gentle with your wipes, like you are using sandpaper to wipe your ass when you have a raging case of hemorrhoids. This will make each eraser last longer.

Water down Magic Eraser to clean out dirt from shoe and squeeze
Repeat.
Magic Eraser Pros:
Best cleaner on the list
Easy to buy and use
You get to do Magic!
Magic Eraser Cons:
More expensive than other options
They break apart easily
Each eraser only lasts for 1-2 pairs of shoes
Number 2: Toothpaste, Baking Soda, Water
I've seen this one all over "Sneaker Twitter" so I figured, why not try it? Most people already own toothpaste and baking soda so it could be the easiest home remedy there is. I found that it is harder and takes more time getting dirt or stains off than the Magic Eraser but, it's easier to get specific stains off. I'd definitely recommend this way of cleaning sneakers, especially white ones.
Put a dab of toothpaste onto a toothbrush
Add baking soda to water and mix completely
Dip toothbrush into the mixture
Scrub dirty area on the shoe
Wipe off with a rag
Repeat
Number 3: Liquid Laundry Detergent and Water
This method I've seen recommended by large sneaker brands like Adidas or Nike. I personally never tried it myself but have heard good things about it. This way is very similar to the toothpaste and baking soda remedy in that it requires products you most likely already own but it probably smells better than baking soda and toothpaste on your shoe.
Soak wash cloth in warm water
Add liquid laundry detergent to warm water and wash cloth
Let soak for 2-3 minutes
Gently wipe stains or dirt until gone
Air dry shoe indoors